Do you feel like you are constantly fighting an uphill battle against thinning hair? If so, then hang tight because I'm going to share the basic about the safe method of Laser hair therapy, how it works and who can benefit from this innovative approach to restoring your locks!
I.  What is laser hair therapy and how does it work?
Laser hair therapy is a treatment option that has been shown to be helpful for many people all over the world.  During Laser Hair Therapy, low-level lasers are used to stimulate follicles, enhance blood flow to the scalp and promote cell regeneration.  Best of all this treatment can be done in the privacy of your own home and is typically not as expensive as surgical hair replacement.
II.  Benefits of Laser Hair Therapy
There are several benefits to using Laser Hair Therapy.   These medical-grade laser light devices can help to reverse the thinning process, increase density and reenergize the hair follicles. In clinical studies, 90% of participants experienced significant hair growth.
III.  Who Can Benefit from laser hair therapy treatments?
Laser hair therapy is FDA approved and is a treatment option that has been shown to be effective in both men and women.  In addition, Laser Hair Therapy can also help to reduce inflammation and discomfort related to hair loss from chemotherapy.  Also, this increased blood flow to the scalp helps to promote new hair growth for those dealing with Androgenetic Alopecia.
IV.  How to choose the right laser hair therapy device
In today's market there are a variety of laser hair therapy devices, including laser hair brushes, laser hair bands and full-size Laser Hair Caps.    However, depending on how far along you are in regards to hair loss, will determine which laser devise so that you can get maximum hair restoration results.  Let's take a look at each of those devise sizes below: 
 Laser Comb/ Laser Brush 
Small hand-held device that mimics the appearance of a brush
Designed for smaller areas of treatment
Treatment can be done in as little as 3-6 minutes, 3 days a week
Visible benefits in 12 to 16 weeks
Average Cost – $200 - $400
  Laser Hair Band 

Lightweight, adjust for a comfortable fit, and allows for freedom of movement
Treatment can be done in as little as 3-6 minutes, 3 days a week
Average Cost – $400 - $800
Laser Hair Cap/ Laser Hair Helmet 

Covers the whole crown area, for maximum hair restoration
Treatment can set for different times for different areas.
Maximum treatment time is 25-30 minutes for whole crown area 3 days a week.
Average cost - $700 - $3000
V.   Laser hair therapy before and after results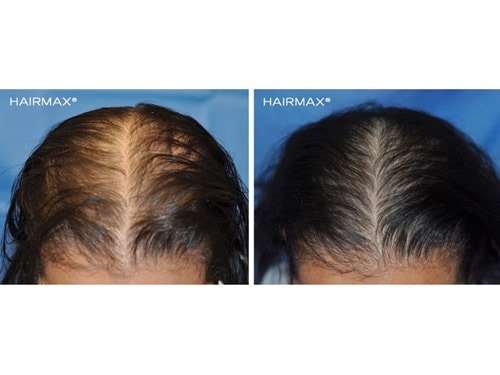 Note : Pictures from clients at HairMax product
Laser hair treatment is one of the most effective solutions available for those suffering from hair loss. As a result, clients can experience healthier hair growth, reduced thinning and thicker, fuller hair. Laser hair treatment is safe, painless and easy to administer, making it an ideal solution for both men and women. Dana has been helping people achieve their desired results with laser treatments for years and would be happy to discuss your options with you.  You can also shop for a new hairstyle at Wigsbydana. We have a wide selection of beautiful wigs that will make you feel confident and beautiful. Contact us today to get started!